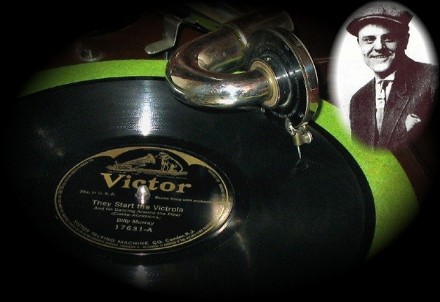 Listen to webmaster Ryan Barna on WFMU's Antique Phonograph Hour:
Billy Murray Tribute
(Records get broken! Literally!)
Still available for review:
AMERICAN RECORD COMPANY DISCOGRAPHY
(Microsoft Word document, 100KB)
Welcome to the official website of the early 20th century's great recording comedian, Billy Murray. Known as the "Denver Nightingale" (a nickname assigned to him by Samuel Holland Rous, known as "S. H. Dudley" on records, and the Victor Talking Machine Company's catalog editor), Murray was among America's bestselling and most prolific recording artists, who helped popularize several songs that are now considered to be American classics.
This website, founded by collector Ryan Barna in 2007, was built with the intention of building a collaborative base where collectors and researchers can learn and exchange knowledge on Murray. It became the "official" website in 2009, thanks to the blessing of the direct relatives of his widow, Madeline Funk Murray (1892-1986), and other descendants.
At this point, Ryan is still currently compiling a new and fully-revised Murray bio-discography, to be published around 2014. Sadly, based on the terms of Murray's old recording contracts, he and his estate are not entitled to any royalties on the reissues of his old recordings. (Artist rights have changed significantly since his peak over 70 years ago.) Therefore, a percentage will be given directly to Murray's estate from any sales or profits made from this site, including any books or CDs sold. Stay tuned, there's more news to come.
© 2007-2012 Phonostalgia